The queen
Sinopsis:
Antes que la historia de America Singer empezase, otra chica llegó al palacio para competir por la mano de un príncipe diferente.
No se pierdan esta novela digital original ambientada en el mundo cautivante de Kiera Cass, la autora de la saga best seller #1 del New York Times, "La Selección".
Esta precuela tiene lugar antes de los eventos narrados en La Selección y está contada desde el punto de vista de la madre del Príncipe Maxon, Amberly.
Descubre toda una nueva Selección con este vistazo hacia cómo se conocieron los padres de Maxon…y cómo una chica común llamada Amberly se convirtió en la amada reina.
The prince
Sinopsis:
Antes de que treinta y cinco chicas fueran escogidas para la selección...
Antes de Aspen rompiera el corazón de América...
Había otra chica en la vida del príncipe Maxon.
The selection
Sinopsis:
Para treinta y cinco chicas, la Selección es una oportunidad que solo se presenta una vez en la vida.
La oportunidad de escapar de la vida que les ha tocado por nacer en una determinada familia.
La oportunidad de que las trasladen a un mundo de trajes preciosos y joyas que no tienen precio.
La oportunidad de vivir en un palacio y de competir por el corazón del guapísimo príncipe Maxon.
Sin embargo, para America Singer, ser seleccionada es una pesadilla porque significa alejarse de su amor secreto, Aspen, quien pertenece a una casta inferior a la de ella; y también abandonar su hogar para pelear por una corona que no desea y vivir en un palacio que está bajo la constante amenaza de ataques violentos por parte de los rebeldes.
Es entonces cuando America conoce al príncipe Maxon. Poco a poco, se empieza a cuestionar los planes que ella había hecho para su vida y se da cuenta de que la vida con la que siempre soñó puede no poder compararse con el futuro que nunca se atrevió si quiera a imaginar.
The elite
Sinopsis:
Treinta y cinco chicas llegaron al palacio para competir en la Selección. Todas menos seis han sido enviados a casa. Y sólo una llegará a casarse con el príncipe Maxon y ser coronada princesa de Illea.
America todavía no está segura de dónde se encuentra su corazón. Cuando ella está con Maxon, ella se deja llevar por su nuevo y sin aliento romance , y no puede soñar con estar con nadie más. Pero cada vez que ve a Aspen parado haciendo guardia alrededor del palacio, se ve abrumada con los recuerdos de la vida que planeaban compartir juntos. Con el grupo reducido a la élite, las otras chicas están aún más decididas a ganar más de Maxon y a America se le acaba el tiempo para decidir. Justo cuando America está segura de que ha hecho su elección, una pérdida devastadora le hace cuestionarse todo de nuevo. Y mientras ella está luchando por imaginar su futuro, los violentos rebeldes están decididos a derrocar a la monarquía y sus planes podrían destruir su oportunidad de tener cualquier tipo de final feliz.
The guard
Sinopsis:
Antes que América Singer conociera al Príncipe Maxon...
Antes de que entrara a La Selección...
Ella estaba enamorada de un chico llamado:
Aspen Leger.
The one
Sinopsis:
El palacio se encuentra en una situación no muy buena.
Los atacantes rebeldes lo hacen desde el sur y el norte, América y las chicas que han sido seleccionadas sufren de un terrible peligro de muerte.
La situación en la que está América tampoco es de las mejores: ahora tendrá que elegir entre Aspen, y el príncipe Maxon, que casi la tiene a sus pies. Todo esto sin tener en cuenta que el príncipe tiene que elegir de entre América y las chicas elegidas para que una de ellas sea su esposa.
Descarga
Sinopsis: Hace veinte años, América Singer entró a la Selección y se ganó el corazón del príncipe Maxon.
Ahora ha llegado el momento de que la princesa Eadlyn celebre su propia Selección.
Eadlyn no espera que su Selección sea como la historia de amor de cuento de hadas de sus padres.
Pero a medida que comience la competición,
descubrirá, que la búsqueda de su propio felices para siempre, no es tan imposible como ella siempre había pensado.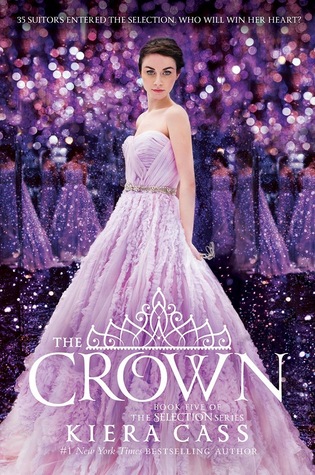 La corona
Sinopsis:
Kiera Cass autora best seller internacional ha cautivado a millones de lectoras en todo el mundo.
Ahora llega "La corona" la quinta entrega de la maravillosa y aclamada serie "La Selección" .
En La heredera se inició una nueva era en el mundo de La Selección.
Han pasado ya veinte años desde que América Singer y el príncipe Maxon se enamoraron Ahora le toca el turno a su hija Eadlyn quien tendrá que escoger entre treinta y cinco pretendientes y está más que convencida de que allí no encontrará el amor verdadero.
Pero el corazón a veces hace de las suyas y nos sorprende y Eadlyn se ver en una encrucijada en la que deber tomar la decisión más difícil e importante de su vida.