Beg
Sinopsis:
Jonathan Drazen es un mujeriego conocido y una hermosa pieza de hombre que no voy a dejar entrar en mi corazón.
Nunca.
Sí, él es rico, hermoso, encantador como el infierno, y tiene un ingenio tan agudo como una navaja de doble filo… pero él ha dejado perfectamente claro que esto es una follada a corto plazo.
Tres noches, máximo, entonces nos separamos como adultos sexualmente satisfechos.
Le creo cuando dice que no me puede amar.
No estoy tratando de enamorarme, tampoco.
Nos acostamos.
Ponemos manos a la obra.
Nos largamos.
Hecho.
¿Correcto?
Correcto.
Sinopsis:
Cuando Jonathan se fue, no podía dejar de pensar en él, y lo primero que hizo cuando regresó fue demandar más de mí.
Estoy dispuesta a darle mis orgasmos y mi tiempo, pero me encuentro dándole pedazos de mi corazón.
Mi carrera está en camino, y aunque no puedo escribir ni una cosa, puedo cantar.
Así que voy a la muestra de arte con él, porque su ex esposa estará allí.
Siento esta necesidad de protegerlo de salir herido, aunque en la cama, su dominación me lleva a mis rodillas.
Este hombre va a romperme en mil pedazos.
Submit
Sinopsis:
Eres mía.
Desde el minuto en que te dije que separas las piernas y lo hiciste, tú eras mía.
Cuando te dije que rogaras y lo hiciste, tú eras mía.
Cuando pusiste tus manos detrás de tu espalda sin i
ndicártelo, te poseía".
No.
Dios, no.
Mi nombre es Mónica, y no importa lo que Jonathan diga, no soy sumisa.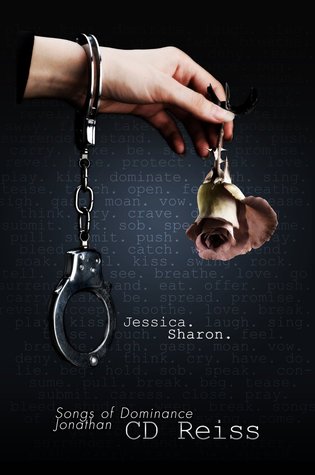 Jessica Sharon

Sinopsis:
El mundo a través de los ojos de Jonathan Drazen.
* Este libro NO es independiente.
Necesitas leer los otros en la serie Songs of Submission *

Leer después de Submit.



Control
Sinopsis:
Lo que estás rompiendo no es alguna pequeña, pareja sin sentido.
No somos una follada casual, y nunca lo fuimos.
No desde la primera noche.
No desde la primera vez que puse los ojos en ti.
Lo negué tanto como pude, pero estamos destinados a estar juntos.
Tú eres el mar bajo mi cielo.
Estamos confinados en el horizonte.
Descarga
Burn
Sinopsis:
Así es como va a ser, diosa.
Hasta que no te rindas ante mí totalmente, no voy a tocarte.
Hasta que el mundo sepa que me perteneces, no voy a besarte.
Voy a estar a centímetros de distancia, a tu lado. Voy a susurrar en tu oído y poner mi aliento en tu cuello, pero el calor de mi piel no sentirá el estremecimiento de la tuya hasta que te comprometas a mí por completo y sin reservas.
Sinopsis:
Una corta canción sobre Rachel
¿La gente como tu alguna vez tiene deseos, Jonathan?
¿Qué significa eso?
¿Gente como yo?
La gente que tiene todo.
Hubo alguna vez algo que quisieras, ¿pero que sólo pudieras desear?
No es necesario leer esta historia si estas leyendo Songs of Submission, pero te ayudara a llevar la larga espera al libro seis.